Screen Printing & Embroidery
Screen printed and embroidered apparel and accessories are available at Alpine Tees and Sportswear, a division of Graber Letterin', Inc. We take great pride in the imprinted apparel we supply and utilize only top quality suppliers for all your sportswear needs. Imprinted apparel can be screen printed, embroidered, or created with heat transfers. At Alpine Tees and Sportswear, we are prepared to provide apparel imprinted in nearly any fashion necessary to meet your needs.

When making your choice of imprinted apparel, Alpine Tees and Sportswear takes the guess work out of assuring satisfaction by providing only top quality apparel from many of the most respected names in the imprinted apparel industry. Hanes, Jerzee, Gildan, Fruit of the Loom, Champion, Lee, and Authentic Pigment are just some of the name brands available.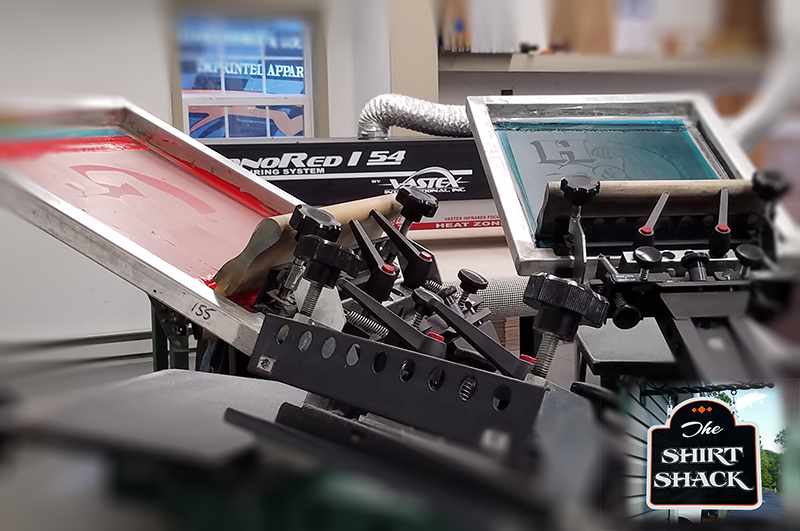 SCREEN PRINTING
Ah yes, the decorated tee shirts. They are everywhere. There are shirts that let everyone what company they work for, who is their favorite driver, what popular movement is important to them, who may be turning 40, 50 or 60, or just a shirt with some fun stuff on it. The screen printed tee shirt is more popular today than ever before.

At Alpine Tees and Sportswear, the apparel division of Graber Letterin', we have been screen printing tee shirts for over 20 years. All screen-printed apparel available at Alpine Tees starts out the same way; with the selection of high quality products from respected companies like, Gildan, Lee, Fruit of the Loom, Jerzee, Hanes and more. In our brand, new "Shirt Shack" we have two manual presses that are capable of producing shirts printed with up to six colors and in any quantity. And all our shirts are hand printed by expert printers with over 10 years of experience pulling a squeegee.

Screen printed tees are an economical way to promote a company, organization or event when a quantity of shirts is required. Minimum orders typically start at 24 and there are no maximum limitations. However, because of the process there are some limitations as to what can be printed. Our designers and artists can help you in deciding what can and cannot be printed.

For examples of the shirts we have produced over the past several years please visit our apparel gallery. Also in addition to our gallery, on that same page are links directly to catalogues that can help you decide the shirts you would like to order.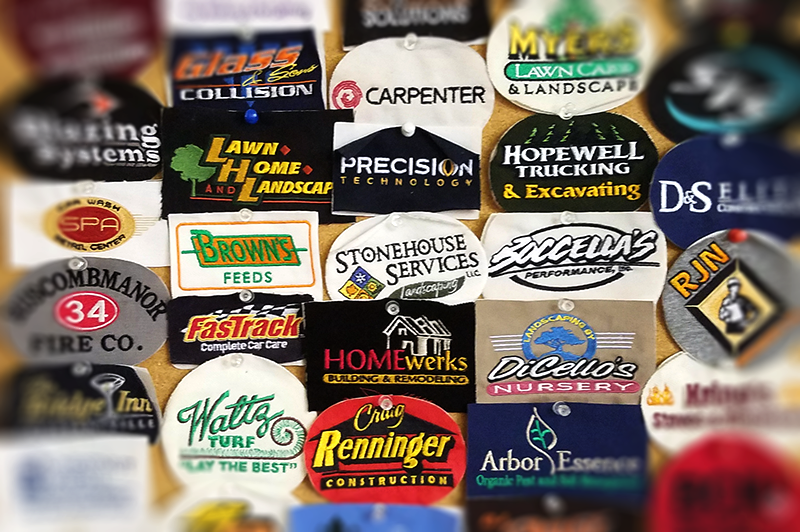 EMBROIDERY
Alpine Tees and Sportswear supplies only the highest quality garments to our embroidery customers. In addition to the major brands used in screen printing we also have available top quality products from other well respected suppliers like Champion, Outerbanks, Ultra Club, Devon and Jones and more.

Almost any design can be embroidered as embroidery allows a great deal of flexibility. Sometimes though, some price limitations are imposed by the number of stitches that may be required to recreate a design. Embroidery pricing is based on the number of stitches used to recreate the design on the apparel. With very large designs it may be more economical in some cases to consider screen printing.

One huge benefit of embroidery is the ability to select from virtually unlimited colors in your design. Other benefits include: no real limitations on the minimum number of items that can be embroidered at any given time (something that is not possible with screen printing), logos can economically be recreated in full color, and the cost for embroidery is typically very economical.

The most popular item that is embroidered is the cap. Embroidered caps are a very economical and popular way to promote your business or event. For more information on the imprinted apparel services available at Alpine Tees and Sportswear and how embroidery can benefit you, please call us at 610-369-1112. And to view samples of the embroidery we have done visit the embroidery album in our gallery.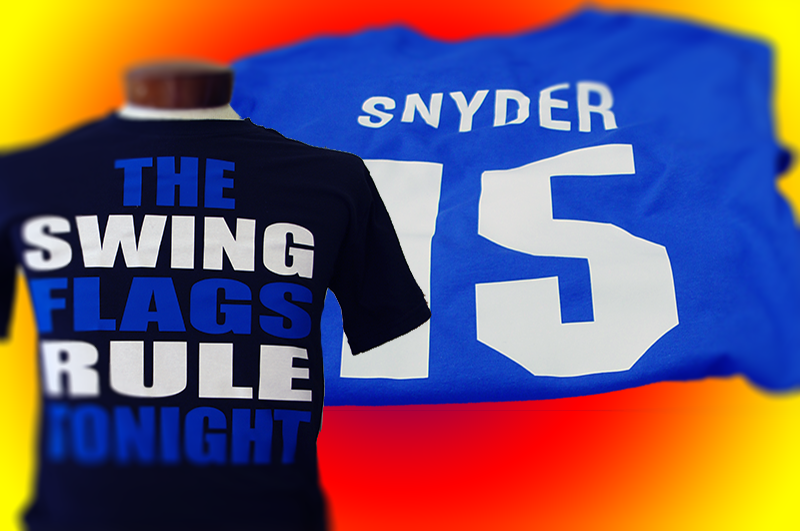 HEAT TRANSFER
When only a few items are needed, heat transfers may be an option. Like the two examples above, heat transfers can be colorful and vibrant. They also can be done in small quantities. The limitation to heat transfers is the amount of colors that can be applied while still able to keep the cost down.

At Alpine Tees, we use only the highest quality transfer material in our vinyl transfers. The transfer material has a "soft feel" to it after transferring and holds up quite well under wear and washings.

Heat transfers are extremely useful when doing scholastic or competitive based shirts like in youth sports and scholastic sports. When names and numbers are needed we typically heat transfer these to the shirts we do.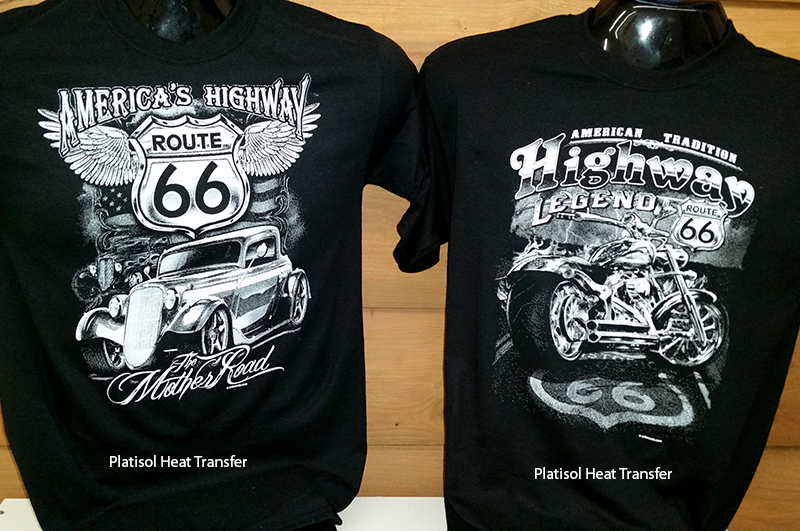 PLASTISOL TRANSFERS
Another form of transfer is the plastisol transfer. Plastisol transfers are created like direct screen printing to a shirt but are instead printed to a transfer material. Plastisol transfers are the kind of transfers you might see on a boardwalk at the shore. They are useful when you only want to create a finished product once it is ordered. We do not create the transfers in house but we do supply the printed shirts with the transfers already applied.

The last type of transfer we provide is the digital transfer. Digital transfers are printed on a wide format printer and while a bit more expensive than regular vinyl or plastisol transfers, digital transfers can showcase a photo in the most realistic way. Digital transfers are typically a one off or very low quantity options primarily because of price, but like any other transfer if the need is there for higher quantities, we can accommodate.